Dance Connection offers a full line of Men's and Women's dance shoes in a variety of fashionable styles and colors. Besides our very own affordable Comfort Dance Shoes, we also offer the Ultimate line of dance shoes with superior materials and craftsmanship. Additional brands include Angelo Luzio, Capezio, Dance Naturals, International, Supadance, Evenin' Star Boots, sneakers, and a number of accessories.
Dance Connection also offers solutions if you have foot and back pain. Most dancers eventually experience pain in the feet, knees and lower back. Well, now you can put yourself on a Solid Foundation with custom-fit orthotics by our Custom Orthotics, Inc. specialists. We have helped over 5,000 dancers with our Platinum Series custom orthotics. Call us for more information.
Get "connected" with the Dance Connection store!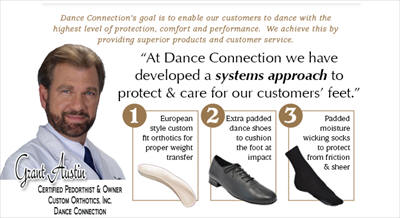 Be sure to read the special feature on "The Science of Dance Shoes" by certified Pedorthist, Grant Austin, veteran dance competitor and instructor and Director of the Dance Connection Store.
www.usaswingnet.com/dance_shoe_science.htm
KEY FEATURES
Premium quality leather

Additional padding for dancer comfort

Double-narrow through double-wide widths

Suede bottoms
OPTIONS
Ballroom, Latin or Practice

Wide selection of of colors and materials

Wide variety of heel sizes

Shoe bags, boot bags, suede brushes, and accessories available
We also have our own custom private label shoes under the brand name, COMFORT DANCE SHOES, which offers an extensive variety and gives you the option to order extra padding for comfort and support.





COST FOR OUR VARIOUS LINES OF SHOES
$99 and up per pair

Shipping is $10 for the first item, and $1 for each additional item (in USA)

International shipping fees vary, beginning at $25

We accept all major credit cards

Exceptional Customer Service
SUMMARY

Get the BEST dance shoes from the Dance Connection, where comfort is priority #1. Your feet deserve comfort and quality. A perfect fit is guaranteed.
Visit our websites for a complete product line.
Hours: Monday through Friday, 9 AM to 5 PM Eastern Time.
Phone: 770.539.9474
WEBSITES

www.danceconnection.com

www.comfortdanceshoes.com
www.ultimatedanceshoes.com
www.customorthoticsinc.com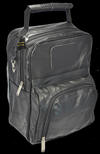 *** Dance Connection is the Official Shoe Sponsor of The USA Swing Dance Network